Subtitle: A World Stopping Trend
The ZC is bi-cameral and, as Professor Joe reminds us, the Senate already was already was [bump] already brain-dead before the November election.
And, this mostly brain-dead Senate is from whence came our current President. Thus, while dismaying, the Administration's current energy policies are unsurprising.
Furthermore, some of "the Supremes" have been taking money from fossil fuel lobbyists, and now these same justices will hear an important case brought forward by the fossil fuel lobby. So, Emperor Fossil has the bases pretty well covered, and we can pretend to live in a democracy for a little while longer, as long as we don't object to continued global devastation.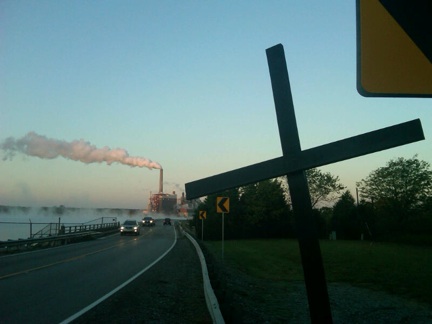 "Why does the coal industry need these huge subsidies? The coal business is in the black these days (no pun intended). Peabody Energy, the largest private-sector coal company in the world, just reported its profits doubled the last quarter to $224 million in just those three months." I think you answered your own question, Miles. They've got the do-re-mi to get the subsidy.
Miles Grant gives a fore-blackening (foreshadowing doesn't do it justice) of things to come. You may recall that this blog relayed a warning: Look out for a renewed Syngas Spin.
The devastators are proudly proceeding with CTL (one of the world's dirtiest fuels. Liquid coal production emits twice as much global warming pollution as gasoline & requires at least four gallons of water per gallon of fuel produced.
Well, guess what? The Senate version of proposed tax legislation includes subsidies for liquid coal fuels. Big surprise, no? "Section 704 of the Senate tax bill as now written," informs Grant Miles, "would extend the Alternative Fuel Tax Credit to liquid coal, giving a 50-cent tax credit for each gallon of liquid coal sold or used in a fuel mixture."
While many senators have fought to include important clean energy provisions in the tax package, the National Wildlife Federation strongly opposes expanding alternative fuel tax credits to cover dirty liquid coal.

Why? For starters, the provision could cost taxpayers $400 million per plant, every year. That's on top of the subsidy coal already receives by not having to pay for its pollution — today in America, polluters can dump as much carbon pollution as they want into our atmosphere free of charge.

The carbon-intensive process of turning coal into liquid fuel is only part of the equation. The liquid coal is then burned by the vehicle, where it emits even more carbon pollution than traditional gasoline, along with plenty of other pollutants to the air in our communities. And, of course, there are all the ecological risks linked to coal mining — habitat loss, ground water contamination & mountaintop removal.

David Roberts writes, "Coal is filthy. It destroys ecosystems to dig it up. It kills the people who work around it. Coal plants throw particulates in the air and causes respiratory ailments. They throw mercury in the water and causes birth defects. They throw CO2 into the atmosphere and causes global warming. The coal industry corrupts the political process. It lies to the public about global warming, and mine safety, and coal reserves, and everything else. It leeches money and opportunity out of the states where it is based."
Having mentioned the 3 branches of ear-tagged-ness, let's not forget the Astro-turf. See care and feeding of the your lovely stretch of propaganda after eradicating any nasty outbreaks of Assange. Did anybody see this Gray Lady advertisement? No, I thought not.
The bottom line is, liquid coal can't stand on its own two legs. It needs massive subsidies from Congress AND it needs to be able to treat our atmosphere like an open sewer. If both of those things aren't true, liquid coal simply can't compete with cleaner energy sources.