Professor Joe, John – the Skeptical, and others have made a case that science, particular climate science, should be more understandable, more accessible to the Masses, a.k.a. those who watch the Simpsons.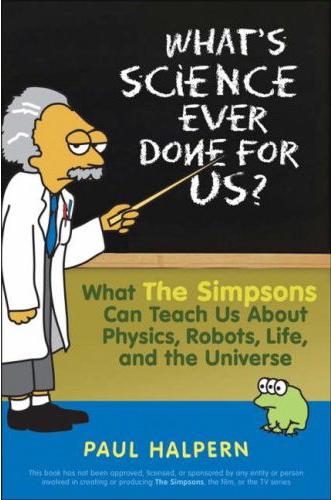 Which prominent scientists have appeared on the show as guest stars?
Unfortunately, scientists are not so impeccant. Quick, which is positive, an anion or a cation? I rest my case.
Especially disturbing is climate scientists' use of the term positive feedback. It's positive, so it's something we want, right? "No, No, No," clamor the climate scientists. "It is something we don't want. You got it wrong again."
Which is why this blog prefers the term "destabilizing feedback". The Government has fed the Masses enough propaganda about destabilizing influences that we know that it is NAG-T (Not A Good Thing). (Editor's note: There still is a problem with the adjective destabilizing. Chaos theory says chaos is a pattern. Until some smart cookie comes up with a better term, we prefer destabilizing to positive.)
Of course, you could use more modifiers, like the New Scientist's review of James Lovelock's The Vanishing Face of Gaia, which examined "five dreaded positive feedback loops. Those processes, which now are underway, will become ferocious amplifiers of global heating My emphasis)."
Which is O.K. if you are a PB (Print Bahstid), but tends to shortening in the spotlight and sound bites (and confusion for the audience). For instance, in a C-SPAN lather, Climate Progress says, "Positive feedbacks clearly dominate in observations of real world (and paleoclimate data):"
"And, that's bad?"
Well, if you are climate denialist. But, this blog thinks it is good. That it is positive, now that's bad.
"See, you climate alarmists. Always being so negative about things."
And, that's bad?