At the first of the year, when the press ballyhooed $8 billion for U.S. High Speed Rail, the senior editor for Trains magazine, Matt Van Hattem, said "This whole package is being sold as high-speed. But in fact, $5 billion of the $8 billion is being used to upgrade existing systems."
Reporting for HuffPo, Joan Lowry tells us about one of those upgrades.
Amtrak is spending $466 million to replace 70 electric locomotives with new ones from German manufacturer Siemens, the president of the nation's intercity passenger railroad said Thursday.

The new locomotives will replace those in use on Amtrak's Northeast Regional route between Boston and Washington and Keystone route in Pennsylvania that are between 20 and 30 years old and have an average of 3.5 million miles each, Joseph Boardman told The Associated Press in an interview.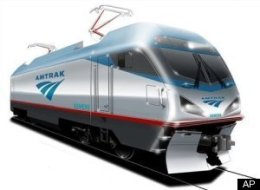 "The new locomotives will be capable of operating at speeds up to 135 mph, but Amtrak doesn't plan to operate them at more than 125 mph."
Siemens will build the locomotives at its plant in Sacramento, Calif., creating about 250 jobs, Amtrak officials said. Some work will also take place a Siemens plants in Norwood, Ohio, and Alpharetta, Ga.

The first delivery of new trains is scheduled for February 2013, Boardman said. The purchase will replace Amtrak's entire fleet of electric trains with the exception of Acela service locomotives. Acela is Amtrak – and the nation's – only high-speed passenger train service.

The purchase is part of an Amtrak plan unveiled last February to replace and expand its entire fleet over the next 30 years. The company's first step in the plan, announced in July, was to spend $298 million to purchase 130 passenger cars.

"We need to upgrade the northeast corridor for the benefit of the businesses in the Northeast," Boardman said. "We have the financial capital of the world, we have one of the major medical corridors, educational institutions, and even fashion industry that are depending upon a reliable system of intercity transportation."

Amtrak carried 28.7 million passengers – a new ridership record – in the 12 months ending on Sept. 30. That was up 5.7 percent over the previous year.

The growth was largely due to services demanded in the Northeast, Boardman said.