Subtitle: Ask not, schmuck
Coal-fired power plants account for roughly a third of U.S. carbon dioxide emissions (making them our single largest source of global warming pollution), the Obama Administration continues with the Clean Coal Lie as our increasingly disastrous carbon footprint pushes us past tipping point after tipping point. Instead of sand, they have their heads buried in the coal ash.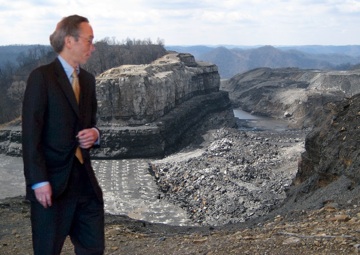 (cheesy image courtesy of YERT.com)
Biggers explains that how Chu would "save coal" is by investing billions into still infeasible, prohibitively expensive, unproven and fanciful CCS (Carbon Capture and Storage) technology. As this blog has chastened, coal won the 2008 election. Despite repeated warnings that use of coal will result in irreversible, catastrophic heating of the planet, U.S. Secretary of Energy Steven Chu announced the Carbon Capture and Storage Simulation Initiative with an investment of up to $40 million from the American Recovery and Reinvestment Act.
HuffPoz Jeff Biggers reports that the Secretary of Energy "emphatically took up the torch to "save coal" this week."
Speaking on the heels of a new study about "peak coal," agonizing testimony of coal ash debacles, reckless expansion of strip-mining from Alabama to Utah's Bryce National Park and 20-odd states and devastating longwall mining in the American heartland, and one of the bloodiest years of coal mining in decades
More AG posts about the Clean Coal Lie