Speaking of federal policy makers' increasing comfort with global devastation, in a NY Times Op-Ed piece, Bob Herbert observes, "The U.S. doesn't win wars anymore. We just funnel the stressed and underpaid troops in and out of the combat zones, while all the while showering taxpayer billions on the contractors and giant corporations that view the horrors of war as a heaven-sent bonanza."
Such an observation echoes General Smedley Butler's frank speech in 1935 describing his role as a soldier as nothing more than serving as a puppet for big-business interests. So it would seem that now more than ever blatant and catastrophic crony-ism, tolerated and supported by members of Congress, is the norm.

As noted before, democracy has become a code phrase for do-re-mi for certain special interests, a way to ask the troops to die or commit atrocities for Emperor Fossil.
While the op-ed is specifically about getting out of Afghanistan, it also has a critique of U.S. Energy Fascism. BAUAAAE (Business As Usual And Above All Else) is "going with the flow", whether it is billions of barrels of oil leaking into the Gulf or the U.S. military spends $1.75 billion every day. (Editor's note: Thank-you Mr. Herbert for recalling that BP is one of the largest suppliers of fuel to the wartime U.S. military. Your observation fits nicely with Jim Sensenbrenner, BP investor and GOP Congressman, not recusing himself from the Oil Disaster hearings and 47 senators voting yes on the so-called Murkowski Amendment.)
And, as reports of atrocities in Afghanistan increase, 'Merika can take comfort in the fight for our beaches (if not for what is under the oily surface of the Gulf). "Three weeks ago," reports HuffPo's Dan Froomkin, Admiral Allen told CBS News: "I trust Tony Hayward."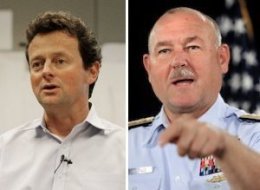 Coast Guard Commandent Thad Allen is the point man for the Obama Administration. He leads our response to the massive oil spill that is poisoning the Gulf of Mexico.
Now, after 53 days during which BP has just made the leak worse while spreading misinformation intended to minimize its possible liability, Allen is sticking to his earlier statement.

Asked at a news conference if he still trusts Hayward, Allen responded: "The fact of the matter is, we have to have a cooperative, productive relationship for this thing to work moving forward. When I talk to him and ask for answers, I get them. You could characterize that as trust, partnership, cooperation, collaboration, whatever. But this has to be a unified effort moving forward if we are to get this thing solved."

So does that mean yes? "If you call that trust, yes," Allen said.
And, so, as we grow more and more forgetful of the war crimes of the Cheney-Bush years, today's message, sheeple is we need to learn to trust Tony Hayward.
See also
Failed States: The Abuse of Power and the Assault on Democracy
ASIN: 0805079122

War is a Racket ASIN: 0922915865