This blog has reported before on development underway in Japan, the European Union, and, to a lesser extent, the United States, of animal waste to energy. We now learn from Climate Wire reporter Jesica Leber that in northeast China there are plans underway to open a cow manure-fed power project at a 250,000-head dairy operation in September.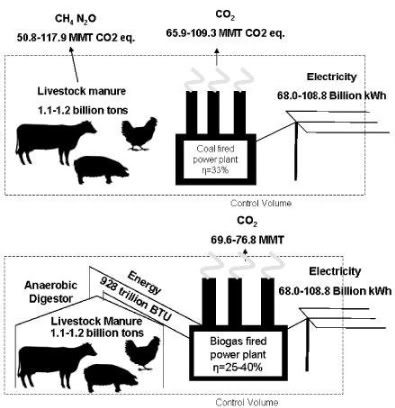 "Cow Power" has environmental implications, in terms of the amount of current environmental pollution and how much GHG emissions could be reduced by a change in waste processing.
According to a spokesperson for General Electric Co., which is supplying four bio-gas turbines to the Liaoning Huishan Cow Farm in Shenyang, this cow power operation will be the world's largest. Anaerobic digestion reduces piles of dung, yields fertilizer and heat, and bio-gas for the turbines with total capacity annually of 38,000 megawatt-hours. This is enough electric power annually to the state's power grid to meet the average demand of some 15,000 Chinese residents.
The government is expanding plans to use bio-gas. By 2005, there were already 1,500 large-scale biogas plants at livestock farms and industrial waste sites. And, to meet 2020 energy goals. China wants 300 million rural residents to use "cow power", in part from 10,000 large-scale biogas projects on livestock farms.
Changes in agricultural practices over the past 40 years in China now means a substantial pollution problem. Methane comprises about 18% of total GHGs; however, it is 23 times more harmful to the atmosphere than carbon dioxide. Nearly 40% of methane is due to industrial farming, much of this from factory farms. Thus, installation of digesters at livestock farms is a good environmental strategy, as well as useful energy policy.

Bio-gas, a.k.a., renewable natural gas, is a versatile energy source. While it involves some different processes, co-digestion is a way to increase supply.
It makes sense to have centralized co-digestion of animal manure slurries that yields biogas then used for co-generation. Anaerobic digesters with co-digestion of waste biomass show a negative value for GHG emissions.
The NY Times article suggests that the biogas field is "one more example of the ways the United States is falling behind China." Energy Secretary Steven Chu told an audience attending a clean jobs conference in Washington, "We're not doing so well." China provides strong tax incentives for a host of renewable energy technologies and the United States is lagging behind. At the conference, Chu repeated again that "time is running out." This blog agrees. In agricultural states, we need to implement poop power policy, particularly for those states that lead in factory farms.