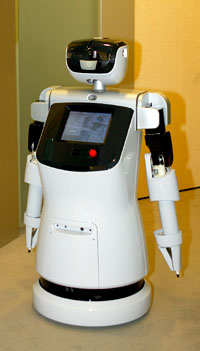 Kurzweil informs that Rod Brooks, Director of the Computer Science and Artificial Intelligence Laboratory (CSAIL) at MIT, gave a lecture at Cornell on April 12, 2005. The talk, entitled "Flesh and Machines: Robots and People" forecasted what robotic technology will bring us in the future.
In his presentation, which emphasized the learning and communication abilities of current robotic projects, Brooks predicted that, "Much in the way that computers have revolutionized society, robots may take on an increasingly significant role in people's lives."
As the world's demographics shift in the next half century, robots can be useful in fields such as manufacturing, agriculture and elderly assistance. Brooks imagines being able to roboticize large agriculture machines for the maintenance of individual plants. Such robots could do menial and time-consuming tasks like pruning and picking. — Brooks Forecasts Future of Robotic Technology
---
"
now misTER smith
, I have been designed by the
BEST
Gnome* developers, behavioral psychologists and elder care
profiteers
specialists
,
so WE ARE GETTING UP NOW, are we not. misTER smith?
And, because I have been enhanced with
13 degrees of vocal intonation
, while
WE DO
, I will
sing
to you my favorite spiritual, "
God in the Machine
'."
"ARRGGGHHH!!!"
---
* Yes, yes, I know that I said that I would never touch another Gnome package. But I did, and, speaking of forecasting, autopackage fouled up the one Gnome-based program that I still admire – the Gimp.