Alternative Title: Am I Blue?
Brian Clark Howard in a Special…
"Surprise… Turkey Soup!"
No, not that Special, this Special is from The Daily Green, as relayed by Eve Solomon for The Huffington Post, talking about my 'hood, Upstate NY, one of the "Six Surprising Places for Solar Power."
While it's not surprising that Massachussets has high interest in solar power, given it's deep blue leanings and strong state incentives, as well as relative wealth, neighboring upstate New York is a bit more interesting. The area is cloudy, cold and experiencing economic decline.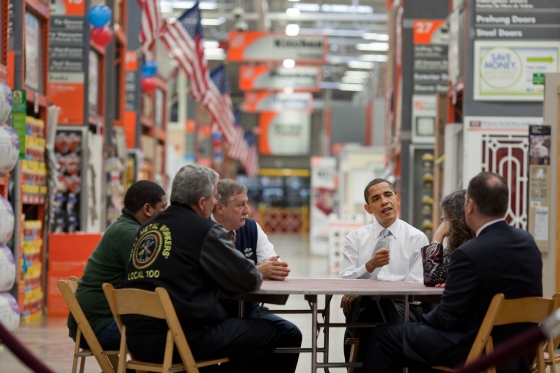 Major home improvement retail stores have begun to offer DIY (Do It Yourself) home solar power.
"So what determines consumer interest in home solar power," boldly queries Brian Clark Howard?
Major factors do include availability of sun, as well as social and political values, disposable income and – significantly — state and local incentives. (Check out DSIRE, The Database of State Incentives for Renewables and Efficiency, to find out what incentives and rebates are offered from your state, town or utility.)
In addition to California. the Happy New Year, Home Solar story notes that two other hot spots are New Jersey, where photo voltaic research began, and Colorado. Each state has an incentive system that promotes adoption of solar technology.
But, not New York, at least, not yet, although things may be looking up for home solar power. So, why, here if we lack that sexy, sexy, insolation, upstate New York?
"Don't you mean "insulation"?
That, too. At least, so it is said, 2009, for ETM (Extra Terrestrial Materials), a solar outfit and friend, was an excellent year. Someone is installing solar panels in upstate New York.
Furthermore, there is a wind farm up the road, on the Tug Hill plateau, and down the road at the start of the Lehigh Valley, there is another wind farm. So, this blog can attest that Upstate New York favors clean energy sources like wind and solar. Hopefully, there are more GSHP (Ground Source Heat Pumps) on the horizon.

The College of Nanoscale Science and Engineering of the University at Albany – a $3.5 billion, 450,000-square-foot facility that has attracted over 250 global corporate partners – is comparable to the most advanced nanotech research complex of its kind at any university in the world.
All of these clean energy sources (and please notice HuffPo-hers this blog eschews lumping them together with less than clean biomass under the rubric of alternative energy) are relatively high tech. Is the answer to the question ecomagination Yankee ingenuity?
With a high concentration of colleges and universities and global enterprises nearby, there is capability and interest in upstate New York. It is no coincidence that leading academic institutions with strong ties to green business were who were present at the most recent, the solar decathlon on the Washington Mall.
This blog, which resides in New York State, has quoted previously a number of characteristics that make the Empire State "a natural fit for the renewable energy industry, including abundant natural resources, a highly-skilled workforce, access to capital, world-class academic and research centers, and supportive government programs." In the source, a NY spokesperson concluded, "As this industry continues to grow, New York has a real opportunity to create new jobs and attract investments to the State."
Now back to an earlier question, can good, old Yankee ingenuity tell us how to supplant 20-30% of coal-fired electric power over the next 10 years?
When this blog thinks Upstate, it thinks A for apples, D for Dairy, and S for natural gas.
"Natural gas drilling with the fuel supply augmented by bio-gas, eh?"
Yes… But, poop power is a challenge when it is cold, and natural gas drilling means poisoning the water supply. So what to do? Can a Connecticut Yankee save life on the planet as we know it while at the court of Emperor Fossil?
Related articles by Zemanta