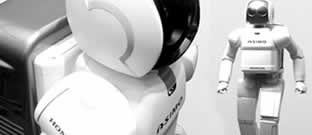 Slashdot pointed to an article in the Pittsburgh Post-Gazette, "Their meeting was a bit robotic", about the induction of Star Wars' C3PO and Honda's ASIMO into the Robot Hall of Fame, which is a joint project of The Robotics Institute of Carnegie Mellon University and the Carnegie Science Center.
The Robot Hall of Fame features embodiments of how we, humans, perceive
robots. Both ASIMO and C3PO seem more benign than the evil killer
robots portrayed in the recently released, Paramount movie, Sky Captain and the World of Tomorrow (see image below), or envisioned elsewhere.
——–