Science Daily avers that solar water heating could pay for itself five times over. Perhaps, such is the case in India, where researchers demonstrated that a solar water-heating system could have a payback period of just two years. While it is true that residential solar thermal, i.e., a solar water heating system satisfies some portion of the need of warm water, is indeed the most cost-effective way of implementing a solar energy system, payback will vary greatly with installation costs. Since installation by qualified plumbers is recommends, labor costs for installation could be significantly higher than in the study recently published in the International Journal of Global Energy Issues on the success of the 1000-liter system operating at a university hostel.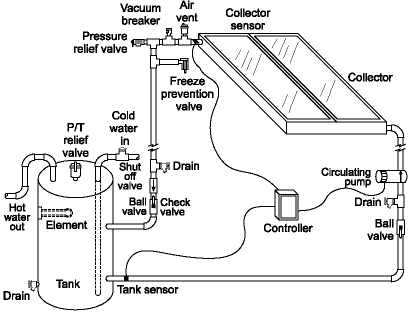 Illustration of Typical Direct Pump System from Florida Solar Energy Center
An enthusiastic promoter of solar water-heating systems argues that these systems can "have minimal — sometimes zero — operating costs, and maintenance costs only about $2 per month. When all costs for purchase, installation, maintenance and operation are taken into account, a solar water heater usually pulls even with an electric heater after just eight and a half years, and equals a gas heater in about 15 years. From then on, through the expected 40-year life of the solar system, you've got FREE hot water." Such an expected lifespan for a solar water-heating system could be overly optimistic.
When in response to a past energy crisis, President Carter had solar panels installed on the roof of the White House, there were solar water heating units. As AG commentator country mouse previously observed that in the past such units could have some serious defects; they would "break by leakage, loss of installation through weather, mechanical, or solar degradation (UV) of various components."
CM further advised that such systems were not designed to be repaired. If a panel was shot, then you bought a replacement.
I have yet to see a solar hot water system remain in good shape for more than five or so years. I would love to be proved wrong. I know there are instances that go for 20 or 30 years but I've seen far more of them go dead in five to 10 years than I have seen go longer.
On the other hand, a number of observers, to include those that have been part of local alternative energy programs sponsored by agencies of the United Nations, agree that simplers systems are indicated in developing countries.
Vivek Khambalkar, Sharashchandra Gadge, and Dhiraj S. Karale at the Dr Panjabrao Deshmukh Agricultural University, in Maharashtra, India, explain how they have evaluated the various costs and benefits involved in solar hot-water production. They have compared solar hot-water production per liter with electrical energy approaches and found that solar heating is 57 percent of the internal rate of return.

Importantly, the payback time for the initial investment in equipment and installation is just two years. This compares very well to a photovoltaic system used for electricity generation if it were only being used to heat water. Photovoltaics have a payback period of several at least a decade and sometimes double that.

The solar hot water system used in the study is installed at the Jijau hostel, part of the Dr Panjabrao Deshmukh Agricultural University campus, in Akola, Maharashtra state, India. The team estimates that the system will effectively pay for itself five times over, given an estimated working life of about twenty years.
Thus, solar water heating systems may be well suited to places where labor and material costs are low, or when installation can be incorporated with other design. In other instances, the evidence is that GSHPs (Ground Source Heat Pumps) are better investments.
Journal reference:
Solar water cost and feasibility of solar water heating system. International Journal of Global Energy Issues, 2009, 31, 208-218