The batteries in hybrid electric vehicles are expensive and are unable to last forever. But, how long will they last? According to a Hybrid Cars post, San Francisco taxi drivers are providing solid information about HEV battery life.

"At a recent Ford Motor Company event, Paul Gillespie, San Francisco Taxicab Commission president, said some of his city's Ford Escape hybrid taxis had passed 300,000 miles of use with no problems. He added that they also found brake life to be three times normal due to the regenerative braking system."
In California and the four other states that follow its strict emissions regimens, hybrid batteries are warranted for 10 years or 150,000 miles, which is presumed to be the life of the vehicle. The other 45 states have an 8-year, 100,000-mile warranty. But many folks drive their vehicles well beyond those limits.

"Only two of our 182 hybrid battery packs have had to be replaced during the years hybrids have been a part of the city's taxi fleets," Gillespie said. "One was replaced under warranty and the other was driver error." The taxis in the city average 90,000 miles a year.

The Escape Hybrid first entered service as a cab in San Francisco in 2005.
Since reliability and durability are essential for taxi use, the data from the introduction of the Ford Escape Hybrid into livery provides a strong argument for greater adoption. There now are at least 40 Escape Hybrids in service in San Francisco and 288 in New York City.
Performance of hybrid taxis are also a strong argument for use of the Toyota Synergy Drive. Not only does the Prius use such a drive train, other car makers use the same drive train, to include the Ford Escape Hybrid. Taxi companies are seeing years of service and savings from Hybrid Taxis.
San Francisco's first hybrid taxi was a Toyota Prius that went into operation in 2003. The first fleet of hybrid taxis anywhere in America hit the streets of San Francisco in November 2004, with fifteen Ford Escape hybrids operated by Yellow and Luxor cabs. The city also has Camry hybrids in its hybrid fleets. In Vancouver, British Columbia, a city teeming with Prius taxis, Andrew Grant started using a Prius as a taxi in 2001—and rolled up more than 300,000 miles without battery problems.

Gillespie said hybrids are popular with drivers due to the "tremendous savings" in fuel costs, which the city estimates at $9,000 a year compared to a gasoline Ford Crown Vic, the traditional vehicle used in cabs. In addition to fuel savings, the city also has a subsidy that is only available to hybrid cabs. Gillespie added that cab company managers, for the most part, have been open minded, waiting to see how the vehicles hold up to the grueling conditions of a San Francisco taxi.

With more than three years of operation under their belt, hybrids are now considered a proven alternative for cab companies. Their experience in San Francisco also points out that ordinary consumers should not have to replace their hybrid battery during the life of the vehicle.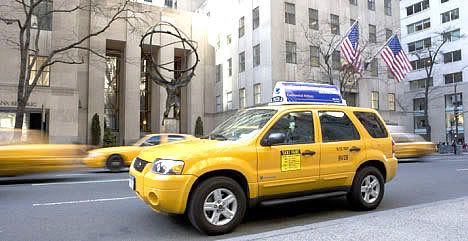 North America has 196,000 taxis, which drive an average of 10 times more than regular passenger cars. A transition to hybrids, much less plug-in hybrids "could save $50 billion in fuel costs over a decade and slash smog in cities."
The Hybrid Cars post also notes that in New York City there is a reluctance to switch to Hybrid Taxis.
New York City's MTBOT (Metropolitan Taxicab Board of Trade) appears to be engaged in an ongoing publicity campaign to show that Ford Escape Hybrids should not be used in taxis. Last month, the MTBOT issued a 43-report outlining a number of safety concerns, including bulletproof partitions interfering with airbags. (In San Francisco, in-car cameras are used as a theft deterrent.)
Last week, the MBOT issued another report—this time claiming that Escape Hybrids are prone to rollover. These reports, and the MTBOT's lawsuit against the city, to block a mandate requiring all new cabs to obtain a city mileage rating of 25 miles per gallon—essentially requiring widespread use of hybrid taxis—can be viewed as a strategy for taxi owners to avoid taking on the added upfront expense of purchasing a hybrid.