Subtitle: To include, a Whistle Stop Tour with Mister Peabody's Death Train
Not specifically addressing my quandary, Tom Philpott nonetheless did address the issue, when he challenged claims that ethanol from corn is only a bridge to a bright future with cellulosic ethanol.

Sometimes referred to as a PCFB (Pressurized Circulating Fluidized Bed) system, a CFB (Circulating Fluidised Bed) boiler is an example of fluidized bed combustion. The system shown above is for the gasification of biosolids, a.k.a., sewage sludge.
The latest such claim comes from Nobel Laureate Steven Chu, director of the Lawrence Berkeley National Laboratory at Cal-Berkeley. Flush with a $500 million grant from British Petroleum to develop biofuels from "alternative" sources, Chu recently declared that "We should look at corn as a transitional [ethanol] crop." A press account of his talk paraphrased him as follows:
[W]ithin five to 10 years, Chu said, scientific discoveries and refining processes could improve enough to move grasses, woody substances, and waste to the head of the line for making fuels. Some grasses could provide five times the amount of fuel from an acre as corn.
"Within five to ten years," scoffs Philpott, "… here we go again. Cellulosic ethanol boosters have been sticking to that particular story for decades now."
The Gristmill contributor has been gathering opinions that cellulosic ethanol "is a bust." The most recent remonstrance comes from an "Iowa-based business consultancy, Context Network.
The following summary appeared in, of all places, Biomass Magazine:
[T]he most significant finding was that cellulosic ethanol has little chance of becoming a major contributor to the biofuels market. "While there's high hopes for cellulosic ethanol, it's going to develop much more slowly than people think," [the study's lead author] said.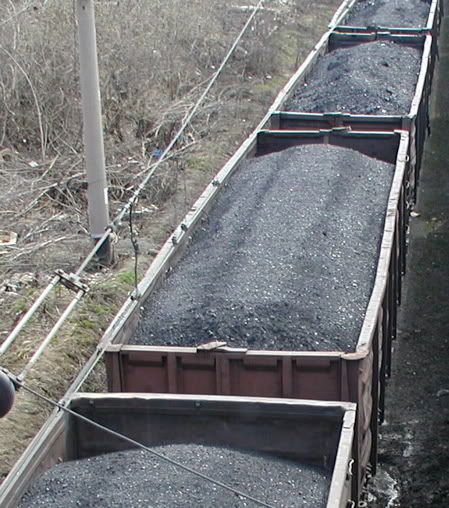 Entrained flow gasification technology can make use of many different types of coal, petroleum coke, several sewage and industrial sludges, oils, slurries, liquid production wastes and biomass. The coal industry strongly advocates these gasification technologies, even when they can use feedstock other than coal, since a high minimum throughput of many tons per day is required to be cost effective. It even will work with bitumen, a.k.a., tar sands, thus, a process endorsed by Big Oil.
With such pessimism expressed by presumably knowledgeable people, e.g., a USDA researcher and the pro-ethanol chair of the House agricultural committee, an earlier doubt creeps back, the doubt that the push for ethanol in reality is simply a Mister Peabody tactic, i.e., more Syngas spin. An indication of the way things will play out could be seen in an observation by Jesse Jenkins, who is nonplussed about Hillary's appeal to the powers at be and her apparent ignorance about the true costs of coal and especially about the destruction mountain top coal mining is wrecking on both communities and ecosystems in Appalachia.

Remember, only you can prevent zombies.