The emphasis upon the use, throughout the EU (European Union), of sustainable biofuels continues.

The decision reached by the European Commission is commendable; it will help to guide developers toward more sustainable bio-energy, a.k.a., "doing the right thing" and hopefully avoiding unintended consequences, i.e., "solving one problem at the expense of exacerbating another."
The Biopact team reports that the European Commission announced strict sustainability criteria. To be deemed a "biofuel", the fuel must cut emissions. Anything above 35 per cent of emissions from petrol is unacceptable. Furthermore, the calculation must be over the entire life cycle. The European Commission is applying a "seed to wheel" analysis, i.e., the entire production chain of the biofuel must be analyzed to validate a claim of emissions cuts.
The emissions criterion means that several biofuels, as they are currently produced, will not count under the mandatory biofuel target, which has been set at 10 per cent by 2020. The fuels that do not meet the criterion include biodiesel from rapeseed (produced on a large scale both in Europe and in Canada), from soybeans (when produced in Brazil) and ethanol from corn (grown in the U.S. and also in Europe).
The blog previously described an ethanol quandary. Rufus, i.e., the Renewable Fuel Standard was part of the recently enacted, dirty energy bill; it promoted the use of ethanol.
As those fancy pants Europeans know, not all ethanol is created equal. The Biopact team indicated that ethanol from potatoes, corn, and rye will fail to qualify for inclusion in the mandatory biofuel target. In terms of ethanol, the production methods that do qualify are "highly efficient sugarcane and sorghum based ethanol [that] easily meet the target*, plus ethanol from sugar beet, whey and wood. In addition, methanol from wood qualifies.
*Note: While sugarcane ethanol is much less off the scale than ethanol from corn, this blog had reported that it still has a greater composite environmental cost than gasoline, according to the Zah study, with which the ratings would seem to coincide in terms of the percentage of GHG emissions reported by the Swiss scientists.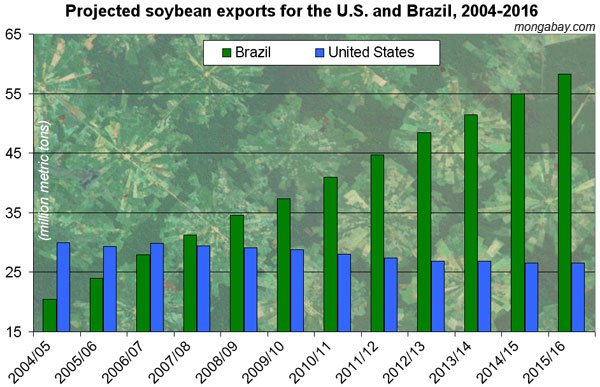 The decision by the European Commission could have a significant impact upon the fledgling U. S. biodiesel industry, which, as Nancy Cole has reported, already "is struggling to cope with soaring soybean-oil prices, a glut of production capacity and a poorly developed distribution system." Policy analysts working on the forthcoming farm bill from the U.S. Congress may be renting their garments and tearing their hair at this moment.
For biodiesel fuels, the following will not count as biofuel: rapeseed biodiesel and soybean based biodiesel, when soybeans are grown on forest land. Soy based biodiesel from the US and biodiesel grown from soybeans in Brazil, of which it can be proved that they have been grown on non-forest land, would meet the emissions criterion. Palm oil based biodiesel also meets the target, even though the feedstock will have to be produced on non-forest land (this basically means in Africa and Latin America, and less in SE Asia).

For biogas, methane from manure, as commonly produced on a large scale in Europe, will not count as a biofuel, because it doesn't cut emissions by 35 per cent. Biogas made from grasses and dedicated energy crops would meet the target, as would methane from wood (synthetic natural gas), and biogas from sewage sludge. Amazingly, biogas from municipal waste could fall out of the boat, even though it cuts emissions by more than 20 % and is a growing sector.
Needless to say, the Biopact team is not happy with the decision. Some of the fuels that the Swiss scientists determined had less total environmental impact than gasoline failed to qualify with 35% or less emissions than gasoline. Also, the Zah study indicated that Brazilian sugarcane ethanol had a total environmental impact greater than petrol, yet still qualified because it produces less GHG emissions than the cutoff.
Like any bureaucratic effort, it errs in some exclusions and inclusion, yet would seem to be a remarkable start toward protecting the environment while producing sustainable biofuel. Particularly, if you were to compare such initiative to the recent energy policy set in the United States. The biofuel sustainability criteria established by the European Commission represent a step toward a coherent, scientific approach to a biofuels policy. This blog has a different concern. As with a previous effort to control ethanol in the United States, there would seem to be a potential for illegality, i.e., disguising an unqualified ethanol source as biofuel.