David Pimentel from Cornell University offers a simple test for whether ethanol producers really believe their own hype. If ethanol offers such a magnificent energy gain, then why don't ethanol plants run on ethanol instead of coal and natural gas?
biopact reports that the POET Biorefining plant in Chancellor, South Dakota, is undergoing an expansion. Production capacity will double, from 50 to 100 million gallons of ethanol per year.
This is more than an increase in production of a fuel that is going unused in E85 capable vehicles in the United States due to continued distributor recalcitrance. The expansion is an example of "thinking ahead", of POET taking the Pimentel dogfood challenge regarding the net energy balance of biomass-derived fuels.
POET is constructing a solid waste fuel boiler at the plant site that will make use of waste wood from pallets, construction sites and area landfills.
It's a win-win situation. By recycling instead of disposing of waste wood, companies, cities and towns in the region will together save hundreds of thousands of dollars in landfill costs yearly. And while saving raw materials from disposal, the fuel product we process will help reduce the need for natural gas.

- Margie Mueller, president of Mueller Pallets, supplier of the wood chip fuel for the boiler.
The solid waste fuel boiler should generate enough steam to produce more than half of the expanded plant's power needs. The boiler system is expected to be operational by the third quarter of 2008. With rising crude oil and natural gas prices, POET expects the switch eventually to represent a cost savings.
The solid waste fuel boiler will allow us to double our production capacity without increasing our natural gas usage. We will be reducing our operating costs by using a green fuel source to produce a domestic, green transportation fuel for America.

- Rick Serie, General Manager of POET Biorefining – Chancellor

Burning biomass is more problematic than burning natural gas. On the other hand, a solid waste fuel boiler allows for a variety of fuels. At NW Missouri State, a boiler burns a mix of 80% wood chips, 15% pelletized paper / trash from the campus and 5% pelletized animal waste.
Biomass-fueled thermoelectric power generation is not without challenges. Water supply is a critical factor. With biomass, a challenge is transporting / preparing the feedstock for cost effective conversion to usable energy. There are pollutants from the combustion, thus such operation require emission controls, which require monitoring and maintenance.
Still, such systems represent best practices. Studies repeatedly confirm that the conversion of biomass to electric power is more efficient, cost-effective and environmentally sound option compared with conversion to liquid fuels. Cynics could carp, and somewhat justifiably so, that POET LLC (Sioux Falls, South Dakota), which has been making ethanol from corn for more than 20 years, needs to improve the EROEI (Energy Returned On Energy Invested) of their product, given that ethanol from corn can range from slightly positive to slightly negative EROEI depending upon energy inputs from field to wheels.
According to the RFA (Renewable Fuels Association), POET now has the capacity to produce more corn-based ethanol than any of its competitors, including agriculture giant ADM (Archer Daniels Midland Co).
Poet's 21 plants across South Dakota, Minnesota, Iowa, Missouri, Indiana and Michigan can pump out 1.1 billion gallons of the alternative fuel, and additional biorefineries under construction or development will eventually add 375 million gallons of capacity.
The September grand opening of the Portland, Ind., biorefinery, put Poet just ahead of ADM — at least for now. "ADM has an annual capacity of 1.07 billion gallons with another 550 million gallon under construction or development."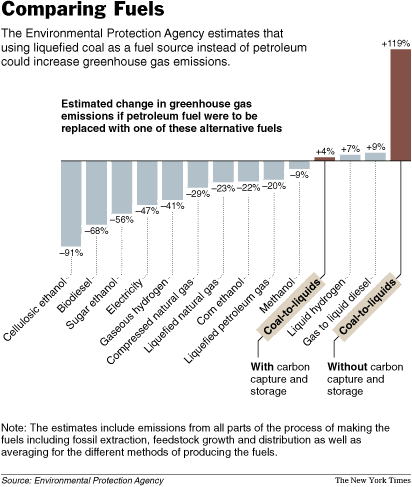 There are approximately 4.5 million E85 capable motor vehicles now on American roads. If that many vehicles were operating on an E-85 blend, with ethanol made from cellulosic feedstock, then Americans might be able to make some claim to a change in direction, i.e., actually taking responsible action toward the mitigation of climate change.
While criticism of the EROEI of corn-to-ethanol is valid, POET is one of the companies that at least is investigating the use of other feedstock, such as converting corn cobs to ethanol. According to the Sioux City Journal, "the U.S. Department of Energy earlier this year awarded $385 million to six companies hoping to build the nation's first large biomass-to-fuel plants."
Poet, one of the six, is slated to receive up to $80 million in grant money, which is part of the Bush administration's goal of making cellulosic ethanol competitive by 2012.
Converting agricultural waste to cellulosic ethanol is appealing, yet two other feedstock sources — forestry waste and municipal solid waste — because of the cost associated with disposal — are demonstrably more practical.