Subtitle: While Rome and Everywhere Else Heats Up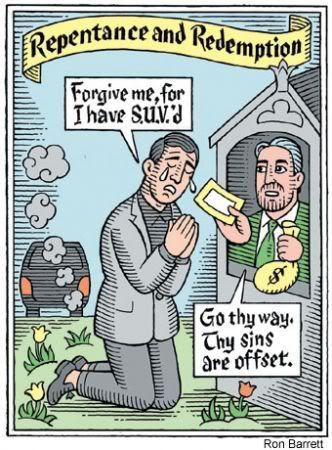 "I'm reminded of the medieval sin-eaters; poor folks who were hired by the rich to consume their sins, so that they might continue to sin."
Even though cap-and-trade, carbon taxes, or a combination won't solve the problems associated with climate change, some hope that linking a rise price in goods and services to GHG emissions, specifically carbon emissions, would "wean us off fossil fuels." As previously noted, Pulitzer Prize winning New York Times columnist Thomas Friedman thinks that it moves us along the innovation curve faster. MIT economist Paul L. Joskow argues that "a cap-and-trade policy is the best way to create a market for CO2 and drive down emissions."
Maria Surma Manka attended the two-day Nobel Conference, an annual event at Gustavus Adolphus College in tiny St. Peter, MN. She heard Joskow present two arguments for cap-and-trade.
First of all, a cap-and-trade policy is politically feasible, and making sure it actually has a chance of passing Congress in our lifetime is the most important thing to slowing global warming.
While the hybrid carbon tax proposed by Representative John Dingell, (D-MI), would seem to be policy intentionally destined for failure — some political observers have described it as the Dingell Gambit — the logic that it is better to pass ineffectual policy, e.g., an easily met cap, is weak. When so much effort is made to sustain economic growth, there is a risk that such policy could divert greater awareness and consensus building. "Well, we've taken care of that issue."
Bottom Line: As Amory Lovins advises: Don't to pay much attention to what Congress is doing.
Congress is a creature of constituencies, and the money and power of the constituencies are almost all on the supply side. There is not a powerful and organized constituency for efficient use, and there's a very strong political (but not economic) constituency against distributed power, particularly renewables.
Secondly, a cap-and-trade plan links the U.S. with other nations (and other states) that have already started down this path, thus creating a global solution to a global problem.
I am unsure of how much of a growing market in carbon offsets there is. Proponents of carbon trading argue that something must be done to dampen the surge in global carbon emissions while still making a dollar, guilder, etc., yet are more definite about the trading potential than the effectiveness of such an approach.
Certainly, there is some semblance of responsible action. For instance, the Dutch set stringent criteria for certification:
The balance of greenhouse gas emissions in the production chain and application of biomass needs to be positive
Biomass production should not come at the cost of important carbon reservoirs in the vegetation and the soil
Biomass production for energy may not endanger the supply of food and local biomass applications (energy supply, medicines, building materials)
Biomass production will not harm protected or vulnerable biodiversity and wherever possible will enhance biodiversity
When producing and processing of biomass the quality of the soil will be maintained or enhanced
When producing and processing biomass, soil and surface water will not be exhausted and the water quality will be maintained or enhanced
When producing and processing biomass the air quality will be maintained or enhanced
Production of biomass will add to the local welfare
The production of biomass will add value to the welfare of the employees and local population.

So that would make the character with the big ears, his mini-me, eh?
Even so, there would seem great potential for pencil-whipping, i.e., collecting data to demonstrate conformance while the reverse essentially continues. To repeat an observation by Simon Richter that emission rights trading is a really bad idea:
The fundamental problem is this: emission rights trading happens only when buying rights is cheaper than actually reducing your emissions. When this is relatively cheap, you remove any incentive to develop better processes in individual companies; if it is more expensive, most industries will remain at the status quo (no emission trading) while those where it still makes sense fiscally now have an alternative, which diminishes the market for technology companies specializing in filtering technology and process optimization (i.e. it becomes even more expensive to behave environmentally conscious).

At the same time, the cost of buying these rights from individuals will be passed on to the consumer, the only way to get this money back will be to sell off their emission rights. From a macroeconomic perspective, no money ever changes hands, but you have effectively transferred the individual emission rights over to the industry.
Bottom Line: Carbon cap-and-trade is predicated upon a false assumption: that the Planet can withstand continued production of green house gas emissions at levels that previously have seemed acceptable. Handing out huge blocks of emissions rights for trading by polluters seemingly allows them to continue to profit from business as usual.
Nota Bene:
If not totally bummed by this post, then you may want to consider Manka's links for Personal Action. "For starters, check out":
Will Steger's "Template for Action"
Lighter Footstep's "10 First Steps"
Union of Concerned Scientist's "How You Can be Involved.