Future Headline: With much of the state under water, a national debate on how many electoral votes Florida keeps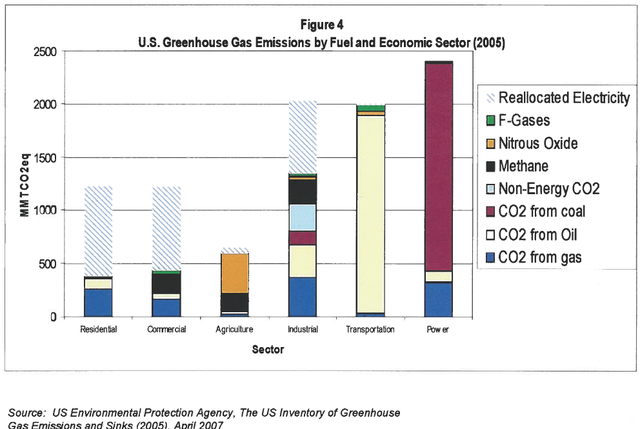 Better enforcement of existing environmental standards would be a start toward reduction of carbon emissions from coal-fired electric power plants.
In a recent post Jim Fraser suggests that TECO (Tampa Electric) establish a policy of installing renewable energy incrementally to meet a load growing at 150 megawatts per year.
Florida is situated where solar power, offshore wind and someday wave power might be considered. By installing a mix of renewable energy technologies which have different time periods of peak output, the resulting power production is considerably leveled out to provide a more continuous flow of power. Solar, with about four hours of storage, matches the peak load for most areas. The large load for air conditioning and a fairly small industrial load would seem to me to make a good case for solar power in Florida. Florida Power and Light recently made a commitment to solar power, so at least one utility thinks Florida is a suitable location for solar power.
Energy Blog commentator Kit P disagrees with such an assertion, "Florida does not have a good solar resources for making electricity." Well, yes and no. According to Solar Millennium, Florida is only a good location, rather than a very good or excellent location for solar power. Property value makes solar farms less practical. Yet there could be novel ways to install solar.
Florida benefits from an electric infrastructure that potentially could incorporate such an increase in a renewable energy portfolio. Energy Blog commentator Andre Angelantoni counters the objection to solar in Florida, asserting that solar is becoming economic without government subsidy.
Jim Fraser makes a passing reference to recent development of Renewable Energy Sources in Florida, and, this blog, relays some additional detail about two examples, one solar thermal and one biomass:
EERE News reports that Florida Power and Light (FPL) announced on September 26th that it plans to build a 300-megawatt solar thermal power plant, which will be the state's first commercial solar thermal power facility. The utility will first build a 10-megawatt power plant using technology from Ausra, Inc… According to the FPL Group, FPL's parent company, the initial plant in Florida will be expanded to 300 megawatts, if the Ausra technology meets its cost and performance goals.
Electrical Contractor Magazine reports that, as part of its ongoing growth in renewable energy and developing technologies, PEF (Progress Energy Florida) will add more than 200 MW (megawatts) of renewable energy to its system through the purchase of electricity generated by the combustion of waste-wood biomass. plant in the nation.


Biomass Gas & Electric (BG&E), based in Atlanta, Ga., plans to build a power plant in north Florida that will use waste wood products—such as yard trimmings, tree bark and wood knots from paper mills—to create electricity. It will generate about 75 MW. The plant is expected to avoid the need to burn nearly 5 million tons of coal over the 20-year life of the contract.

The process will use gasification to create electricity. Projected commercial operation is expected to begin in 2011. It will be BG&E's third biomass power plant.

In addition, last year, PEF signed a contract with the Biomass Investment Group to purchase the energy output (130 MW) from the nation's largest biomass plant to be built in central Florida. The project, which will use environmentally friendly E-grass as its fuel source, will reduce carbon emissions by more than 20 million tons over the 25-year life of the contract when compared to coal.

Utilities are willing to invest in ISCC (Integrated Solar Combined Cycle), whereby recovery of heat from a gas turbine is combined with solar thermal energy and used to power a steam turbine, because combined cycles show the highest system efficiencies. Still, the use of two turbines with ISCC adds significant cost, which is one reason for research into other lower cost generation.
The choice of these two examples is intentional since they also demonstrate the potential for greater development of ISCC (Integrated Solar Combined Cycle). Wherebiomass is used to generate power, It would seem especially to make sense to use a combined system since gasification of bio-solids lacks any diurnal, seasonal or climatic (i.e., cloudy days) restrictions. A thermal energy system could operate day and night.
Still there are GHG emissions from the gasification of biomass, much less when coal is the primary feedstock augmented with biomass. Before the arguments over the pros and cons of any reliance by Florida utilities upon utility-scale solar power, Fraser notes that several power companies "have said they would back carbon capture and sequestration requirements."
Yet he perceives a reluctance to invest in such technology until such time that there are requirements. (It would seem that the health of the populace subjected to the most polluting plants or a global catastrophe in the making is insufficient incentive.)

A combined-cycle power generation means that the heat from the first cycle is used to run a second cycle. Electricity generation from the proposed Southern California Edison plant would come from two sources: 1) a gas turbine running on hydrogen and 2) HRSG (Heat Recovery Steam Generator).
It is possible that such perceived lack of incentive is a result of the EPA's seeming reluctance to enforce existing restrictions upon the more polluting power plants. (Fraser attributes such reluctance to power companies wanting an even playing field.) And, it could well be more complex than just a lack of issue of enforcement.
The power companies may be waiting to see which way the political winds are blowing after November 2008 and whether they can continue to talk a good game or if they actually will be required to demonstrate successful CCS (Carbon Capture and Storage). As Big Coal author Jeff Goodell observes, "There is a big difference — a rhetorical Grand Canyon — between supporting coal plants that are 'compatible with' CCS and actually requiring them to do it."
Another question is how much Florida utilities will want to diverge from a regional recalcitrant policy that has persisted. Utility companies in the Southeast, observed Dana Beach, "persist in exclusively embracing coal-based power production" despite the fact that coal powered electric power plants are the single biggest contributor of carbon emissions. As previously noted, it was just such an attitude that prevented energy policy in the Senate that would establish 15% renewable energy as a federal standard. Southern utilities eschewed the high road, which, in addition to greater efficiency, would be to expand the renewable energy base with the conversion of municipal solid waste and forestry waste to electric power.
It also could depend upon public opinion. For instance, will what, to which Joe Romm refers to as the Swift Boating of James Hansen, succeed? Or, will the further denial of climate change sufficiently anger the other thousand or so concerned scientists enough that there are substantive, ultimately successful, efforts to mitigate rising emissions.
A foreshadowing is the Dingell Hybrid Carbon Tax. As with unfulfilled promises of better gas mileage by the automobile companies, the power stations have been able to get away with more air pollution than what a majority of people would tolerate. The Dingell Gambit is to "head off" a bi-partisan initiative to raise the Corporate Average for Fuel Efficiency, which has not been raised in 37 years.
Observers believe that his strategy is to initiate discussion about a carbon tax instead. As he acknowledges, such policy will have a tremendous impact upon companies that generate electric power by means of coal combustion. Thus, he is counting on significant opposition from those Senators and Representatives aligned with Emperor Fossil. No need for a presidential veto, as was necessary with the recent bi-partisan initiative for more children's health care.