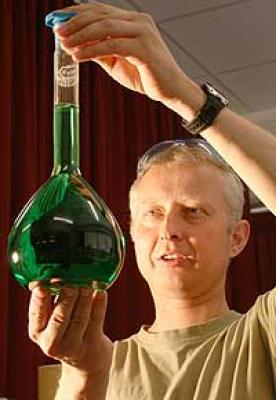 The lower costs of manufacturing may give dye-sensitized solar cells an important niche in a rapidly growing market.
Grätzel and o'Regan first demonstrated a DNSC (Dye-sensitized Nano-structured Solar Cell) in 1991. There since had been slow improvement in light-to-energy conversion efficiency. Recently, Dyesol announced such progress in development that a dye-sensitized solar cell could be considered competitive with other means of producing solar electricity. Other announcements have followed.
Autoblog Green relays an Engadget report that Ohio State University researchers claim efficiency from a new type of cell as good as "the normal silicon based cells currently on the market." One might assume that the author is referring to photo voltaic cells made from amorphous silicon. "The dye-sensitive solar cells appear pink due to the mixture of ruthenium and either titanium or zinc oxide particles in the cells."
The very good news is that such solar cells would cost about a quarter of the price. as other competing cells. As previously noted, material scientists have focussed upon SAMs (Self Assembled Mono-layers) of metal complexes. More recently, researchers at Rice University announced a new recipe for better, cheaper photo voltaic solar cells. It promised sufficient stability for mass production and used less expensive materials.

Photo by Carlos Alejandro
U.Deleware researchers Christiana Honsberg and Allen Barnett
Production is ramping up because of the current scarcity of pure silicon. Jim Fraser maintains a list of manufacturers of low cost fairly efficient solar panels that includes Daystar, Global Solar, HelioVolt, Honda, Konarka, Miasole, Nanosolar and Q Cells. Konarka, in particular, has been scaling up its dye cell technology to large-scale production capabilities since 2006.
Fairly efficient to Fraser is above 12%. The best silicon solar cells generally available commercially are 22% efficient at converting sunlight that hits them into electricity.
The University of Delaware has achieved a record-breaking combined solar cell efficiency of 42.8% from sunlight at standard terrestrial conditions. A DARPA funded consortium led by the University of Delaware used multiple innovations to achieve this very high-performance with a crystalline silicon solar cell platform.