Taipei, Taiwan was the first place in the world to mandate zero emissions for 2-wheel vehicles. The focus of third generation scooters primarily is on the use of fuel cells or advanced lithium batteries. What sort of decrease in cost factor is necessary for ultra capacitors to be put to use?
I recently asked rhetorically whether cheaper ultra capacitors could mean that such energy storage would find application in some of the millions of e-bikes now being made in China?
Such application certainly is possible. In 2000 the NASA John H. Glenn Research Center published the results of baseline testing of the EV Global E-Bike with ultra capacitors.
The experimental question was whether a hybrid electric bicycle could be a way to reduce pollution in urban areas, reduce fossil fuel consumption and reduce operating costs for transportation systems.
Typical for NASA, the E-Bike was state of the art.
Unique features of the vehicle's power system include the use of an efficient, 400 watt, electric hub motor, and a 7-speed derailleur system that permits operation as fully electric, fully pedal, or a combination of the two… The E-bike was tested with the standard battery energy storage system, an ultracapacitor energy storage system, and a combination battery and ultracapacitor energy storage system.
The report concluded that the E-Bike provides excellent performance, and that the implementation of ultracapacitors in the power system could provide significant performance improvements. In Europe, FRESCO (Fuel-Cell Reduced-Emission SCOoters) has tested a combination fuel cell and ultracapacitor system.

Zap recently announced the Zapino electric scooter with a 3kW Brushless hub motor and optional upgrade to a 60v40AH lithium battery pack.
In a battery forum, ed kirton asked "if adding a capacitor in parallel with my 36V ebike battery pack would be a good idea? I know such a setup is used with RC cars and high-power car stereo installations."
The forum moderator said no.
"If your ebike motor were drawing 10A from a 1 farad capacitor the voltage would sag 10V per second. Putting anything resistive in series with the cap will make it useless… You're better off adding more batteries than capacitors."
Forum member Bobby Schmidt took issue with the moderator's flat denial, asserting that it depended upon the power density of the capacitors and the motor controller. The moderator responded that controllers for BLDC (Brush Less Direct Current) motors "already will have an appropriately sized electrolytic capacitor to smooth out current impulses." He re-asserted that "you get much more bang for the buck just adding more batteries."
So in 2004 scooter enthusiasts were advised to stick with batteries. Has anything changed since then to make the NASA approach more practical for the everyday e-bike rider?
Well, Professor Alfred Rufer notes that current trends in power electronic are the appearance of circuitry that allows conversion of "electrical energy between different voltage levels and operating frequencies (including DC), with very high efficiencies and power densities." He states that such development in power electronics now enables "a highly dynamic control of the power flow", i.e., "with high power densities while at the same time providing fast dynamic responses." His research includes converters with interleaved channels. "Active power filtering," notes Professor Rufer, is needed to cope with the increasing sensitivity of electrical networks to harmonic distortion.
And, Treehugger Michael Graham Richard noted in 2006 that at least European developers, such as BMW, have experimented with using super capacitors to give a quick, high-power, short-term "fix". Professor Freymann favors the use of super capacitors over batteries for regenerative braking. "[The super capacitors] are lighter and store less power, but unlike batteries we can use all their power — all 100 percent."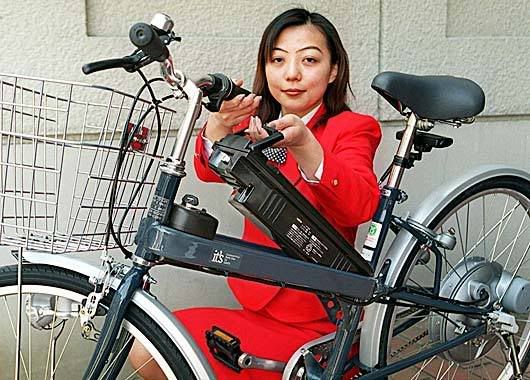 In China a large number of inhabitants are unable able to afford automobiles and bicycles are a dominant mode of transportation. As cities sprawl and towns become more modern, the e-bike and electric scooter are becoming attractive options.
Typically, diandong zixingche riders lack NASA budgets or the funds to shop for a cleaner BMW. But, could they afford innovative ultra capacitors at a price of $400 per kW?
Back in September 2006 there were rumors that EEStor would be able to meet such a price point. Nothing has yet confirmed the validity of such rumors.
In 1997 researchers at EVI (the Electric Vehicle Institute, Bowling Green State University) first demonstrated the use of super capacitors in heavy-duty transportation projects as early as 1997. More recent projects, e.g., ISE buses and Oshkosh trucks, make use of commerically available ultra capacitor modules from Maxwell (390-volt Boostcap HTM).
In a recent press release David Schramm, Maxwell's president and chief executive officer, did state that Belton Technology Group, a manufacturing partner of Maxwell Technologies in Shenzhen, China, was contracted to assemble large cells and multi-cell modules. Schramm saw this as "a significant head start on competitors" in the Chinese market, a view that could indicate increased, global availability of lower cost, Made in China ultra capacitor packs.