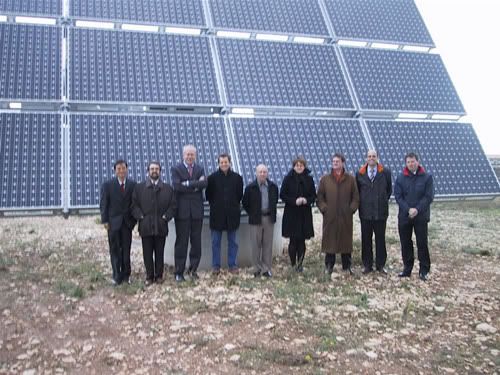 Spanish Trade Group Visits German PV Installation
Worldwide, in the field of Photovoltaic Solar Energy, EUPVSEC (European Photovoltaic Solar Energy Conference and Exhibition) is the largest conference. This year it will take place in the City of Milan, from 3rd to 7th of September 2007 at the new FIERA MILANO.
The five-day Conference programme features workshops on present-day PV issues. European Photovoltaic Industry Association also will convene its 4th PV Industry Forum for scientists, engineers, industrialists and policy makers to present, discuss and communicate over the whole spectrum of fundamental science, industrial processing, market introduction and deployment programmes. The accompanying Industrial Exhibition attracts approximately 450 companies and solar organisations from around the world. The exhibition, running alongside the Conference provides a showcase for the technology and service providers involved in the PV Solar field. It is also open to the public.
The Conference is chaired by Dr. Gerhard Willeke, Fraunhofer Institute for Solar Energy Systems. Germany is currently the world's largest PV market. Its PV Industry comprises the world's leading PV manufacturers of silicon, wafers, cells and modules.
"A world leader in renewable energy less than a decade ago, the United States is now viewed as a laggard," wrote Evelyn Iritani for the L A Times (December 21, 2005, reprinted in the Hong Kong Standard). She quoted Rhone Resch, president of the Solar Energy Industries Association in Washington, as observing that "every available [solar] module is going to Germany. It's Google-like growth."
Well, and those sales not going to German manufacturers are most likely going to the major Japanese manufacturers, i.e., Sharp and Kyocera. Since 2002 Japanese companies have demonstrated the fastest growth in total solar product sales.
It is ironic that German and Japanese companies view the United States as a key growth market. Take, for example, the California Solar Initiative. California is a major solar market and a new initiative begun January 1 boosted growth. Recent big news in this market was Sharp acquiring the contract to equip the Googleplex in Mountain View, California (in the heart of Silicon Valley) with solar panels.
And, while on the subject of Sharp, it is worthy to note that Sharp, currently the largest producer of solar cells, has moved into the PVL market. Photo Voltaic Laminates, a.k.a., thin-film solar cells, are becoming a preferred product of installers of BIPVs (Building Integrated Photo Voltaic systems) because of their ease of installation.
The US trade association for solar energy and related businesses is now encouraging support of the Securing America's Energy Independence Act (S. 590, H.R. 550), legislation that will extend and expand the federal solar tax credits through 2016. Currently, those federal solar tax credits are set to expire next year.

Sharp advertises their new Amorphous / Microcrystalline Thin-Film Tandem Cell as having 8.5% conversion efficiency.
As previously noted, the Solar America Initiative represents an effort to boost capacity and bring down cost by 2015. Yet solar energy is a very competitive business in part because of the size of the market. Industry observers point to the commitment by Europe and Japan to the Kyoto accord and the United States deliquency as a significant instrinsic factor in terms of the relative position across markets held by foreign companies. Still the DOE and the US solar industry claim there has been progress toward cost-competitive solar power across all market sectors.
This may be, but Craig Cornelius, technology manager for the U.S. Department of Energy's Solar Energy Technologies Program, has some legitimate concerns. According to Reuters (23 February 2007), the U.S. share of global panel construction has fallen from 20-25 percent about four years ago to about 8 percent now, while Japan and Germany have increased their output.
China has increased its market share from about 1 percent four years ago to 8 percent now. As solar technology proliferates, countries like China and India that have an industrial base and lower manufacturing costs may be able to capture greater market share.