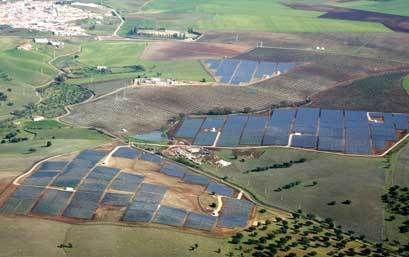 Photo: Business Wire
"Portugal relies heavily on imported fossil fuels, and its carbon dioxide emissions have increased 34 percent since 1990, among the fastest rates in the world. To address this, the country is implementing some of the world's most advanced incentives for installing renewable energy."
This blog recently mentioned Spain as one of the five most promising regions in the world for development of large scale, thermal solar projects. While Spain is the leader among Mediterranean countries, there are other areas also suitable for development in the same region. Take for instance, the announcement relayed by Renewable Energy Access about the Serpa solar power plant in Portugal.
Spread across 150-acres on a Portuguese hillside, 52,000 photovoltaic modules sit amid the olive trees generating electricity at one of the world's largest solar power plants in the town of Serpa. After eight months of construction and testing, GE Energy Financial Services, a unit of General Electric, PowerLight, a subsidiary of SunPower Corporation and Catavento SA dedicated the 11-megawatt (MW) Serpa solar power plant on Wednesday.
The ground-mounted photo voltaic system is innovative. Beside use of silicon solar cells to convert sunlight directly into energy, the facility uses a tracking system to follow the sun's daily path across the sky. PowerLight's PowerTracker allows for the generation of more electricity than conventional fixed-mounted systems.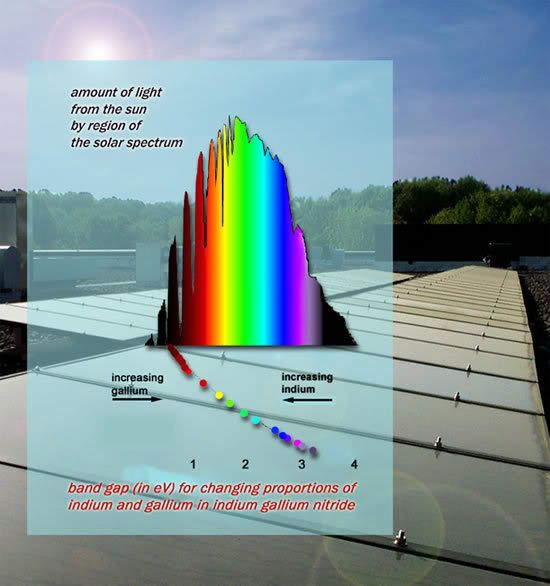 Indium Gallium Nitride solar cells require direct sunlight for proper function, thus their effectiveness is increased with the use of a tracking system. Such multi-junction photo voltaic modules work best in dry areas with lots of sunlight.
Such tracking systems are controversial, since their additional cost and use of energy by the electromechanical tracking apparatus may outweigh the additional energy gain. More research and development is in the use of low cost optics to enhance efficiency of the quite expensive, multi-junction cells, i.e., whereby developers "tune the band gap" of the semiconductor to match the energy available in sunlight so that a greater percentage of the incident light is converted.
Speaking of research, the Serpa facility, located in Portugal's Alentejo agricultural region, 200 kilometers (124 miles) southeast of Lisbon, offers the opportunity to compare the effectiveness of various panels since it incorporates photo voltaic modules from:
SunPower
Sanyo
Sharp
Suntech.
PowerLight engineers can test the efficiency of the solar cells and performance of the modules, i.e., heat dissipation, durability, etc.
A solar or PV (Photo Voltaic) cell is a semiconductor device, usually, but not always consisting of very pure silicon, which converts the energy of sunlight into electric energy.

A solar module is when solar cells are connected electrically. Such PV modules or panels often have a sheet of glass on the front (sun up) side with a resin barrier behind, allowing light to pass while protecting the semiconductor wafers from the elements.
GE Energy Financial Services financed and purchased the project in an approximately $75 million transaction last year. PowerLight, a global solar power system provider, designed, deployed, operates and maintains the plant. Catavento, a Portuguese renewable energy company, developed and manages the project, which began feeding Portugal's electricity grid in late January.
A concurrent report from Renewable Energy Access reported that the Swiss subsidiary of SunPower Corporation, PowerLight Systems S.A., will build a solar electric power plant in Llerena, Spain. The generating capacity of this new photo voltaic system is expected to be approximately 4.8 megawatts (MW) of peak power.