The Solucar Solar Plant near Seville, Spain exemplifies two types of concentrating solar power. One field of heliostats concentrate sunlight on a solar thermal receiver; another smaller field of heliostats concentrate sunlight on photo voltaic panels on the other side of the same tower. PS10 solar thermal electric power plant and and the Sevilla PV plant share the 66 kV line running to the Sanlúcar la Mayor substation.
The Seville Solar Tower Complex contains two power plants. The PS10 is a solar thermal electric power plant. The Sevilla PV is a large, low concentration system photovoltaic plant. Both now have been brought into operation providing power to the Sanlucar la Mayor substation.
PS10 is a utility-scale, solar thermal electric power plant in Spain. Green Bloggers Digest reports that the 11 megawatt plant, which took four years to build, recently began providing power to sunny Seville.
Similar to Solar Two located near Barstow, California, the Seville solar thermal electric power plant, PS10, uses heliostats to maximize solar gain. (All those mirrors move like plants tracking the sun on two axes.)

Movable mirrors are called heliostats; PS10 opened with 624 heliostats to concentrate sunlight on a receiver. Each of the mirrors has a surface measuring 1,290 square feet.
Abengoa first became involved with solar energy in 1984, when it began to manufacture heliostats for the CESA tower facility at the Almería Solar Platform. It also supplied facets for the heliostat field at the Weizmann Institute in Israel, subsequently undertaking R+D activities in collaboration with Ciemat and building the 1 MWp Toledo PV photovoltaic plant. From 1994 it developed different heliostat prototypes, partly financed by the EU Framework Programmes.

Between 1995 and 2000, the company executed several R+D projects with parabolic trough collector technology with the EU Framework Programme. Abengoa is currently working on R+D projects involving solar receivers, heliostats, parabolic troughs, photovoltaic concentrators, parabolic dishes, etc. Abengoa Newsletter, December 2006
This blog previously reported that Abengoa subsidiary, Solucar, had bought into the U.S. solar market with purchase of Denver-based Industrial Solar Technology Corporation, a company with "20 years' experience in industrial CSP (Concentrating Solar Power) and commercial steam applications. Solucar now is in the news because PS10 has come on line. Abegona Bioenergy is a primary reason why a 2005 policy analysis from Greenpeace identified Spain as one of the five most promising regions in the world for development of large scale, thermal solar projects.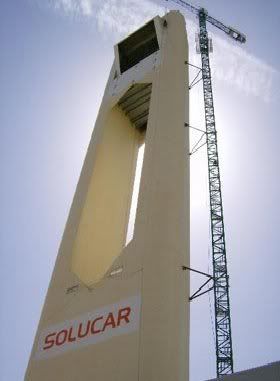 At the top of a 377 foot high tower is where a solar receiver and a steam turbine are located.
One of the key factors for correct functioning of the solar plant is the generation of electricity by means of a turbo-generator. Synchronization tests were performed on the steam turbine and the electricity grid and the quality of the steam from the ancillary boiler met requirements. The good results allowed first synchronization of the turbo-generator towards the end of last November and a further synchronization was performed toward the end of January this year.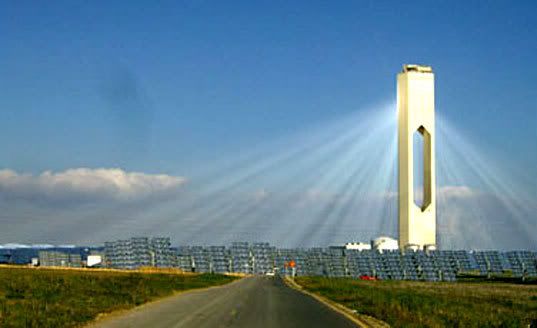 An example of testing that the heliostats can properly focus sunlight on to the PV panels during assembly of the Sevilla PV project.
The Sevilla PV project consists of a solar photovoltaic power plant with 1.5X and 2.2X concentration by means of mirrors and double-axis sun tracking to produce 2.4 GWh of clean electricity. These two enhancements have resulted in the reduction in the cost of the electricity generated due to the higher amount of radiation received by the photovoltaic modules, and to the higher amount of energy achieved as against a static panel. If we estimate a 20-year useful life for the plant, Sevilla PV will prevent the emission of 37,440 tons of CO2 into the atmosphere. Abengoa Newsletter, October 2006
While combined CSP now has been demonstrated on a large scale, effort are underway to offer combinations on smaller scales. Development of a combined, PV/T (photo voltaic / thermal) solar panel actually began in 1979 at Massachusetts Institute of Technology, but only recently has Helio Dynamics made such a product commercially available. And, as noted prior, research and development is underway at a nanotech level. University of Idaho Chemist Pam Shapiro announced work on CIS (Copper, Indium and Selenium) quantum dots that are embedded between layers of a solar cell, absorbing energy otherwise wasted due to overheating.