The basis of the the HydroMax system is a molten metal reactor ( Iron / Tin) for a cycle of oxidation and reduction of the iron to produce carbon monoxide (CO) and hydrogen (H2) in separate and distinct streams, which "can be used to create electricity in turbines, produce transportation fuels or chemicals through various synthesis processes, or deliver high-quality hydrogen."
When this blog first became enamored with the idea of every municipal waste treatment plant converting waste to energy, one consideration was the CO2 emission profile. There are environmental consequences depending upon the process technology chosen. The source and amount of energy used in conversion, plus the source and amount of energy required in ensuring that the biomass is suitable feedstock (to include cultivation in the case of energy crops), effects EROEI (Energy Returned On Energy Invested) and various emissions profiles.
There was particular appeal to consideration of two feedstock sources — forestry waste and municipal solid waste — because of the cost associated with disposal. This blog previously relayed information about a project in Georgia to convert forestry waste to synthesis gas, a.k.a., Syngas. In this case, the process technology was high temperature gasification.
Green Car Congress now has a post about the HydroMax technique. The process begins with steam reforming; steam is injected into a molten iron / tin (FeSn) bath heated to 1,300° C. Once the iron is oxidized, the steam injection ceases and the biomass injected into the reactor. "Carbon has a high affinity to oxygen and reduces the oxidation"; CO-rich Syngas is the result.
Diversified Energy claims that the HydroMax technique can deliver gasification systems at up to 50% the cost of traditional systems and with 80+% efficiency… Evergreen Pulp, the largest kraft pulp mill in the US, is acting as the host for the project at their kraft pulp mill in Eureka, CA… The two companies also have discussed activities beyond the initial demonstration [project]. This broader relationship could include installation of a full-scale HydroMax system capable of generating enough high-BTU Syngas to replace all of the natural gas consumed at the Eureka, CA plant. This would make Evergreen Pulp the first US pulp mill to run its operations entirely fossil-fuel free.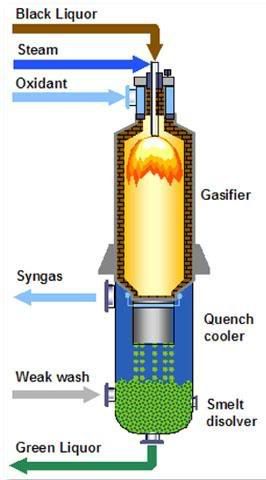 "The development of black liquor gasification technology can substantially improve the energy efficiency of the pulp and paper industry. Gasification of black liquor with combined-cycle co-generation of steam and electricity requires improved materials, including the refractory liners of gasifier vessels. High alkali concentrations, high temperature (~950°C) and severe gas/liquid flow characteristics inside gasifiers combine for a challenging environment for refractory materials. Sodium reacts with the refractory causing expansion of the surface, spalling, and the development of other mechanical / structural refractory faults. The physical loss of as much as 40 percent of some refractory material has been observed. This degradation creates structural and safety problems, thermal efficiency losses, unacceptably high maintenance cost, and excessive downtime." Research is underway at Sandia National Laboratories / California to help understand and assess these issues. There also is development of a magnesia-alumina spinel as a more corrosion resistant material in such thermo-chemical processes.
Since this blog has become somewhat sensitized to Syngas spin, there were two points of special interest in the GCC post.
By its emphasis* upon "research, development, and demonstration of technologies capable of replacing natural gas usage with renewable resources", it was further evidence of a growing concern over a dwindling natural gas supply.
In writing the post, Mike Millikin notes "a carbon source (here, the biomass) is injected into the reactor." Since such processes require tons of feedstock daily, it would seem open to the introduction of other carbon sources, sp., coal gasification.
*Note: A high temperature gasification project at a California pulp mill has a certain advantage since there have been more studies available about the conversion of kraft mill pulp liquor to Syngas than conversion of other waste.
As quoted in an earlier GCC post about the same process technology W. David Thompson, the CEO of Diversified Energy, advocated that gasification must be an element of the country's energy portfolio because of the current US energy situation, worldwide energy demand, and limited oil and natural gas supplies. Once such Fischer-Tropsch processes are in place, producing energy and carbon emissions, it would seem a small step to increase carbon emissions with the conversion of less favorable feedstock, e.g., pulverized coal, using the same rationale. Indeed, a HydroMax brochure shows coal as the example feedstock and advocates clean coal as the only viable near-term solution.
Certainly, the U.S. Department of Energy endorse such gasification-based systems. Government analysts like the versatility of such process technology since it can provide a wide range of products, e.g., electricity, fuels, chemicals, hydrogen, and steam, and, especially in a time of higher energy costs, can sustain operations on low-cost, widely-available feedstock.
We have begun to see the plans for how the Hydrogen Highway might play out. In commenting on the earlier post, Engineer-Poet observes that "making hydrogen from coal does nothing to improve coal's environmental impact at the mine (tailings, subsidence, damage to water tables, mountains destroyed) or the expense of storing and using hydrogen."