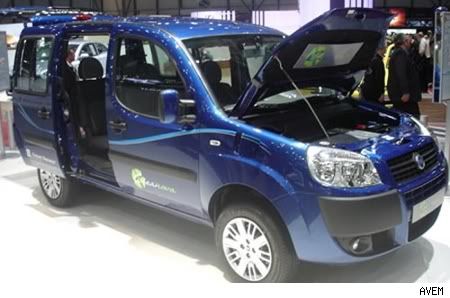 At the Geneva auto show earlier this month, Dassault-Heuliez displayed a Fiat Doblo converted into a 100 percent electric vehicle.
Pointing to conversions by Dassault-Heuliez of France, Edmunds Inside Line predicts that the day is coming when affordable electric cars are available to the general public.
Notice the adjective "affordable", roadsters for the rich or sports utility trucks for the government does not a market make, and the largest selling electric car in the United States is from Global Electric Motorcars, a division of Daimler-Chrysler. While affordable, it has limited range and speed.
Perhaps, Edmunds Inside Line was thinking of the potential market for electric city cars in London. Actually, the day came and passed. The oil crisis of the 1970s passed and, while there were warnings, climatologists had yet to begin wearing sackcloth and ranting about the end of the world. But, perhaps, there yet may be a resurgence in BEVs (Battery-powered all-Electric Vehicles).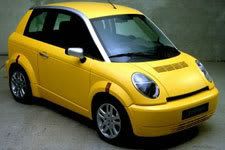 As part of a station car program, the life of the Th!nk City in the United States was short lived. Nonetheless, it has served as a model for a number of electric city cars.
We now live in more interesting times. It depends upon whether you listen to the optimists that hope if changes are made then the worst will be foreshortened and the pessimist that say it is too late. Both camps agree that a problem exists, which is too significant to ignore.
Well, too significant if you are a climate scientist. If you are a car maker, then you want the consumer to ignore the 1000 concerned scientists or the peak oil prognostications and keep on buying those gas guzzlers. Even reluctant attempts at change by some of the major European car makers seem to be too little, too late.
Yet even the most arrogant motor works should make note of the Cleanova II drive train that Dassault-Heuliez has developed. The system combines an electric motor from the Quebec company TM4 with lithium-ion batteries.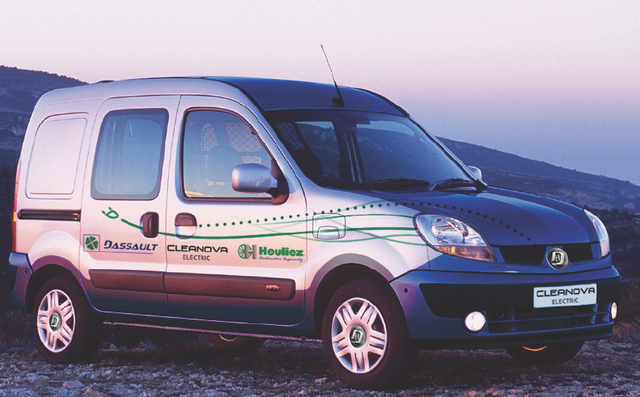 Closely resembling the Renault Kangoo Electric, and with advanced lithium batteries like the Korean Parade, the SVE postal van with the CLEANOVA drive train is European competition for the MES-DEA plug-in hybrid, which similarly was developed from an electric Fiat Panda.
Dassault-Heuliez projects that it could convert about 400 Doblos and 600 Kangoos for a total of 1,000 electric-powered vehicles a year at its Heuliez factory in Deux-Sèvres. As previously reported, the French post office has begun fleet testing of the Cleanova II system in the Renault Kangoo.
According to a report by the French electric-vehicle organization AVEM, the BEV (Battery-powered all-Electric Vehicles) equipped with the Cleanova II system would cost about USD$10,000 extra. At least for the near future, however, the company plans only to sell them to businesses and municipalities.
Either this should be a concern for those car makers behind in development of a hybrid drive train or intriguing to those car makers that have anticipated a change in the market with their own technological development. It is a very short step from the Cleanova drive train to a plug-in hybrid like the CLEANOVA Plus Series Electric Hybrid, an electric conversion of the Renault Kangoo that also carries a small internal combustion engine to charge its batteries, thus extending the car's range, especially with ongoing development of advanced lithium batteries.
When I read a report, appearing at the same time as the Cleanova II Fiat Doblo, written by Sam Abuelsamid about the market success of a new engine dubbed TSI by Volkswagen and "designed to provide the power of a larger engine with the efficiency and CO2 emissions of a much smaller engine", my first thought was, "O.K. Volkswagen, shrink your 1.4L four cylinder, rated at 138hp, to a 79hp range extender that fits nicely as part of a plug-in hybrid serial drive train."
Volkswagen has played with an electric concept car while eschewing design of a hybrid electric vehicle, much less a plug-in hybrid. Since their European competitors, e.g., Fiat, Nissan Renault and PSA Peugeot-Citroen certainly are preparing to catch up with Toyota, one might wonder if Volkswagen-Audi executives, besides teaming up with Sanyo, at least have had some constructive conversations with mechatronics giant, Siemens, or some other manufacturer of advanced electric motors and associated power electronics.
The Volkswagen TSI is a precursor to technology, actually a combination of pre-existing technologies, that this blog previously noted would help to make a world class, range extender.
The new technology is a combination of:
Turbo charging
Separate Ethanol Direct Injection.
The enhancement from the Sloan Automotive Lab at MIT is more exact computer control over combustion. As Jeremy Korzeniewski states in a recent AutoBlog Green post:
Because ethanol burns cooler than gasoline, the compression of an engine designed to run solely on ethanol can be raised. By combining this characteristic with direct injection and turbocharging, researchers at MIT have been able to vastly increase the power output of small engines. The engines use gasoline through standard fuel injection, with a separate direct injection system for the ethanol.
As Daniel Cohn related to Kevin Bullis for a Technology Review article, if ethanol is inject directly into the combustion chamber at just the right moment, then spontaneous combustion of the fuel/air mixture, a.k.a., "knock", is prevented, which allows for greater turbo charging.
The MIT team created a detailed computer model of how using ethanol enabled more turbo­ charging and higher cylinder compression. Subsequent tests by Ford have shown results consistent with the MIT computer modeling. Thus, while each of the technologies existed previously, it has been the use of sophistical mathematical formulas, which model laminar flow, that enabled results promising enough that the researchers started Ethanol Boosting Systems in Cambridge, MA, to commercialize the technology.
What is as yet unknown is whether the improvements warrant the associated cost when compared to other approaches and when compared to fine tuning of standard engines for operation within an optimal range, which, as plug-in advocates observe is an important advantage to a serial hybrid drive train.