As recently noted, at least one experienced venture capitalist favors centralized, utility-scale solar power. According to Red Herring, Vinod Khosla specifically believes the greatest opportunity is with the application of concentrator technology. This blog was unaware that one solar thermal electric power plant produces 90% of the world's commercially produced solar power.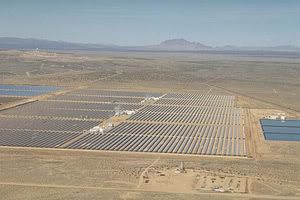 Solel, an Israeli company, operates the plant, which covers 1000 acres in the Mojave Desert in Southern California.
At 354 MW, SEGS (Solar Energy Generating Systems) is not only the largest operational solar thermal energy system, but the largest solar power system of any kind. SEGS is a trough system; linear parabolic mirrors concentrate sunlight upon a receiver running along the focal line of the collector. Each mirror has a diameter of almost 20 feet concentrating solar energy upon a 4 inch diameter specially-insulated tube filled with oil. There are seven different production units (SEGS III to SEGS IX) with 400,000 mirrors.
Each mirror is able to heat the oil to almost 750 degrees Fahrenheit. The heated oil circulates through a heat exchanger. The last stage is similar to a conventional steam turbine generator.
Khosla is not alone in favoring concentrated solar power. A number of industry observers have included thermal solar, when suggesting that solar energy finally may be coming into its own. Or, at the very least, solar power is becoming competitive with traditional load-following / peaking generation, particularly as the costs of natural gas and diesel fuel increase and air quality standards are raised. (If it ain't the Feds, it's the States.)
Particularly in the Southwestern United States, utilities have been more amendable to thermal solar systems and have been investigating ways to increase their efficiency.
Studies have indicated that the use of Stirling engines for generation or combined cycle generation is somewhat more efficient than just using steam turbines for generation. Back in February 2006, Jim Fraser commented that Stirling Energy Systems , without any incentives, was able to demonstrate the cost effectiveness of a Stirling installation for Southern California Edison.
Studies also have indicated an advantage to thermally integrated systems, a.k.a., ISCC (Integrated Solar Combined Cycle), whereby recovery of heat from a gas turbine is combined with solar thermal energy and used to power a steam turbine. The example previously used in this blog was combining the gasification of waste biomass with a solar thermal.
Combined heat and power generation show the highest system efficiencies. Still there is considerable variability in reported efficiencies depending upon what usage is made of the process heat, e.g., absorption cooling, desalination, district heating or industrial applications. Reducing transport losses is key to higher efficiencies.
The optimum capacity of a solar thermal power plant is smaller than coal or nuclear powered generation. On the other hand, utility-scale solar thermal needs to be on a sufficiently large enough scale to justify the capital cost. The use of two turbines with ISCC adds significant cost, which is one reason for research into other lower cost generation.
Nonetheless, material costs for thermal solar are less than for photo voltaic systems. Since this translates to a quicker ROI (Return On Investment) on solar thermal power, there would seem to more monies available for investment in large scale, thermal solar projects.
According to a 2005 policy analysis from Greenpeace, the five most promising regions in the world for development of large scale, thermal solar projects are:
Spain
Middle East
North Africa
Australia
the South Eastern and South Central United States
There is even greater market potential since other areas throughout the world, typically arid, semi-desert areas, receive a great deal of sunlight. The challenge is to lower the cost of technology; simpler solar power systems are indicated where materials are scarce and costly to import. These other areas are located in South America, Southern Africa and India.