Odyne Corporation modified an AutoCar garbage truck into a heavy-duty plug-in, CNG, series-hybrid. Something similar will be is use at the 2008 Olympics in Beijing.
The Energy Blog reports that ABAT (Advanced Battery Technologies, Inc.) has agreed to supply their PLI (Polymer Lithium Ion) battery packs for use in sanitation trucks.
In the sales contract with BGTDC (Beijing Guoqiang Global Technology Development Co., Ltd.) ABAT agreed to supply a total of 3,000 sets of PLI battery cell packs. Beijing Guoqiang Global Technology Development Company will use the advanced lithium batteries in 3,000 electric garbage trucks designed for use at the 2008 Olympics Games. The electric drive in each garbage truck will feature a high performance, permanent magnetic BLDC (Brush Less Direct Current) motor.
Such a drive train would similar to those used in electric and hybrid buses*, of which ABAT completed first tests in June 2004. Such a drive train also could be similar to that used in all-electric buses made by theTianJin QingYuan Electric Vehicle Company, or in various electric vehicles converted by Azure Dynamics.**
* Note: According to Jim Fraser, the announcement lacked clarification as to whether the garbage trucks would be all-electric or some sort of hybrid configuration.
**BTW: Engineers at Azure Dynamics also know how to combine battery packs with ultra capacitor packs, the latter now produced in China.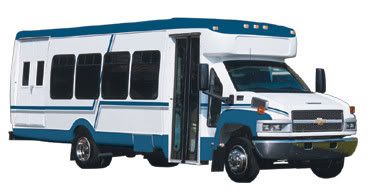 Compared with a conventional shuttle bus, the Azure Dynamics Citibus demonstrates nearly a 50% reduction in fuel consumption during city driving.
The ABAT PLI batteries use lithium cobalt oxide anodes. You soon could be seeing more of them since one of the top pioneers in the California electric car industry now is deploying US patented automotive-grade PLI batteries. While Left Coast Conversions is an electric car conversion company, it also is one step closer to an electric and plug-in hybrid car market in the U.S.