When higher temperatures are needed for power generation, some industrial applications use parabolic troughs to concentrate the solar radiation onto evacuated tube collectors. The collector tube is enclosed by glass and the space within the tube is maintained at a permanent vacuum, thereby reducing conductive heat loss at high temperature.
When Abengoa S.A., a Spanish-based $3 billion diversified energy company, last appeared at After Gutenberg, they were Abengoa Bioenergy, involved in the development of celullosic ethanol, which makes sense since Abengoa Bioenergy is Europe's top ethanol producer. In Spain the bioenergy unit of Abengoa produced 260 million litres of ethanol in 2005 and about 400 million litres in the United States.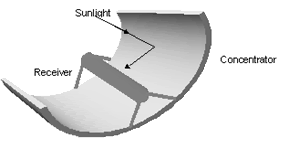 "Parabolic troughs concentrate sunlight onto a receiver tube positioned along the focal line of the trough. The trough is usually designed with a tracking system to follow the sun as it moves across the sky during the day. This optimises the amount of heat that can be generated. A trough power station will have a large number of these set out in rows over a collecting field."
It would seem that Abengoa is embracing a sun to wheels paradigm by diversifying into solar energy. According to Renewable Access, on 7 January Solucar Power, Inc. became a new U.S. subsidiary focussed on electricity generation by CSP (Concentrating Solar Power).
Dr. Fred Morse of Abengoa believes that CSP technologies are poised for rapid growth in the Southwestern United States, "due to the growing need for power from clean energy source."
Solar thermal power systems use solar-generated heat to drive an engine or turbine connected to an electric generator. By concentrating the solar energy, they are able to generate heat at temperatures ranging from several hundred to several thousand degrees Celsius. The heat is used to generate steam or some other pressurised gas which then drives a turbine or engine. To maximise electricity generation, the collectors should be sited where the skies are predominantly clear throughout the year. A desert location is therefor ideal. "Solar Energy Advisory" from the South Australia Government
Morse also is co-Chairman of the Western Governors Association Solar Task Force and Chairman of the CSP Division of the U.S. Solar Energy Industries Association (SEIA). He exemplifies the "revolving door" whereby industry experts also serve in government; Morse served as Executive Director of the White House Assessment of Solar Energy in the late 1960s, and furthered solar energy R&D at the U.S. Department of Energy,
Since its founding in 1941, Abengoa has expanded to include solar energy, bioenergy, environmental services and information technology. Operating in more than 70 countries, it recently completed an 11 MW central receiver plant in Spain and has started construction of a 20 MW plant. Abengoa is also a producer of biofuels, with three ethanol plants in the U.S. and others under development and construction.
Parabolic troughs comprise the solar thermal technology that Abengoa proposes for application in the Southwest, which has two characteristics suitable to such development 1) vast tracts of desert that receive sufficient solar energy for a large part of the year and 2) access to a power network that can carry the electricity to high use areas. (Some areas in Australia also offer the same features and concentrating solar is being investigated as solution to power needs there also.)
Solucar Power purchased the assets of Industrial Solar Technology Corporation. Based in Denver, Colorado, the company had "20 years' experience in CSP with trough systems for industrial and commercial steam applications… Solucar Power will leverage the parent company's resources and expertise in conventional and solar power plant engineering, construction and operation, as well as in control systems and biofuels."

At least 30 million Chinese households have a solar thermal system; and, 4 of every 5 systems sold in the world in 2005 were in China.
CSP is the low-tech cousin in the solar energy. Most people in the United States know it as the technology that people use to heat swimming pools. Since water heating is the second largest expense in most homes, for certain areas and do-it-yourself-ers, solar water heating can be a practical source of renewable energy. These systems generally require a supplemental source of heating, yet can cut water heating costs from one-half to two-thirds. Since materials and installation can be relatively inexpensive to install (roughly $5000 for an average system), thermal solar has a quick ROI (Return On Investment). Such systems are particularly indicated in those states where thermal solar qualify for incentives offered to encourage solar construction.
Because it is low tech and comparatively low in cost, thermal solar is becoming a popular solar technology in China. At least 30 million Chinese households have a solar thermal system.

A molten salt system can be can be a means to store thermal energy, thus mitigating the problem of an intermittent source for generating electricity at night or during cloudy weather.
Enough area is needed that systems can concentrate solar thermal power sufficiently to provide large enough quantities of electricity to be of interest to utility companies. And, CSP requires more sophisticated technology than plumbing to concentrate the heat and convert it to electricity using a steam generator, Stirling engine or thermoelectric couplers. For instance, in a recent post Tom Konrad mentions that molten salt thermal storage is one of his top ten favorites for an alternative energy future because it's cheaper to store heat than it is to store electricity and concentrating solar power can produce a ton of heat without pollution or fuel. Besides thermal storage, other energy storage systems include phase-change materials and thermo chemical storage. Thus, CSP technologies, whether heliostat, parabolic trough or solar tower do meet cost, performance and risk profiles in certain places.
For more information about Concentrating Solar Power, visit the web site for the U.S. Department of Energy's Office of Energy Efficiency and Renewable Energy Solar Energy Technologies program eere.energy.gov/solar/.