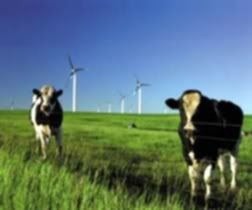 "Experts are trying to find a new recipe to turn corn into ethanol and some are turning to cows for help." – Matthew L. Wald
Credit: Warren Gretz
The New York Times Science Section has a suggestion for our President (and other advocates of ethanol from corn), i.e., Get Closer to the Cow. In "Corn Power Put to the Test" (Tiny URL; NYT Subscription Required), Wald suggests that "Cow Power" could be a source for biogas, replacing the use of natural gas in the energy-intensive, fermentation process.
For every gallon that an ethanol manufacturing plant produces, it uses the equivalent of almost two-fifths of a gallon of fuel (usually natural gas), and that does not count the fuel needed to make fertilizer for the corn, run the farm machinery or truck the ethanol to market.
With the kickoff of the General Motors "Live Green, Go Yellow" ad campaign, there is renewed debate about the value of ethanol from corn as a fuel. See, for example, the commentary* to a recent World Changing article, "In Search of the Flex-Fuel Freeway".
I was glad to see that, in the brief consideration of whether ethanol is a sustainable fuel, Wald mentioned that ethanol plants have been built using methanol methane produced in a manure digester to supply heat for their distillation columns. Unfortunately, while the New York Times Science article made passing reference to the greater potential value of (even George can say it) cellulosic ethanol, it only focused on production; there was no mention made in the go-yellow journalism of ethanol's relative energy value.
* Note: In which the author puts in a plug for plug-in, flex fuel hybrids, and, later, mentions the recent UC Berkeley meta study.